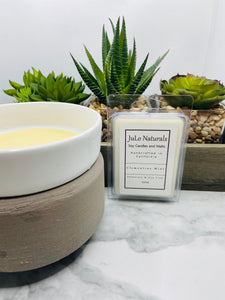 Phthalate Free Soy Wax Melts 

This scent is Happiness in a Jar!!! Bright, Fresh, and Invigorating. This scent is infused with natural essential oils, including Orange, Lemon, Mint, Spearmint, and Eucalyptus. Truly a mood-lifting candle choice. 
These luxury wax melts can be used in your favorite warmer and are the perfect gift for any occasion.
Note Profile:
Top: Citrus, Basil
Middle: Orange Peel, Mint, Chamomile
Base: Agave, Tomato Leaf 
JuLo's luxurious design and superior quality will impress any and all soy candle lovers. Our hand-poured small-batch candles are homemade right here in California, USA and make great gifts for her, or just as stunning everyday aesthetic candles for your home.