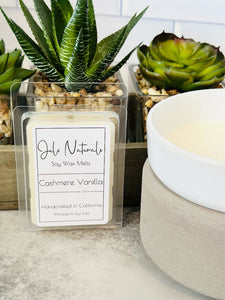 Phthalate Free Soy Wax Melts
Get cozy and cuddle up while our Cashmere Vanilla candle fills your space with the delicate aroma of freshly laundered Linen evoking a sense of crisp purity, while the heart of rich amaretto, blooming jasmine, and a whisper of smoke weave together in an intricate dance of warmth and mystery. As the scent deepens, the base notes emerge, a harmonious blend of velvety musk and indulgent praline, entwined with the sweet allure of vanilla and the alluring depth of amber. Together, these layers of fragrance create a symphony that captures the essence of comfort, elegance, and the irresistible allure of a cozy evening's embrace.
This fragrance is infused with natural essential oils, including clove leaf and eucalyptus.
Note Profile:
Top: Linen
Middle:  Amaretto, Jasmine, Smoke
Base: Musk, Praline, Vanilla, Amber
JuLo's luxurious design and superior quality will impress any and all soy candle lovers. Our hand-poured small-batch candles are homemade right here in California, USA and make great gifts for her, or just as stunning everyday aesthetic candles for your home.