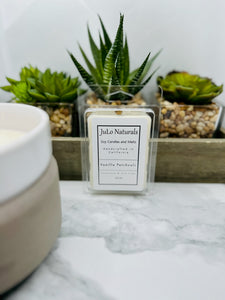 Handmade Phthalate Free Soy Candles

This gorgeous scent wraps traditional patchouli in warm vanilla giving it a much smoother scent delivery than the usual in-your-face Patchouli.  Our Phthalate free version of the BBW classic will fill your home with an earthy, warm and sensual scent. These luxury wax melts can be used in your favorite warmer and are the perfect gift for any occasion.
(We are not affiliated with BBW)

Patchouli helps to reduce tension, insomnia, and anxiety. It is also known as an uplifting fragrance that helps to soothe away stress. Patchouli oil is also known as an aphrodisiac and is a traditional ingredient in love potions.

Note Profile:

Middle:  Sandalwood, Amber 
JuLo's luxurious design and superior quality will impress any and all scent lovers. Our room sprays are homemade right here in California, USA and make great gifts for her, or just as a refreshing addition to any room.